Have you enjoyed Swimrite's interactions with you and their involvement in the community? Feel free to fill out the Contact Us page and tell them about your experience.
Below are customer and community member notes:
May 30, 2017
"Brandon is a nine year old who loves superheroes, especially Superman. A third grader at Lakeshore Elementary School in Eau Claire, he likes learning about science and the games they play in gym class. His favorite day of the week is Friday when he gets to take home a sp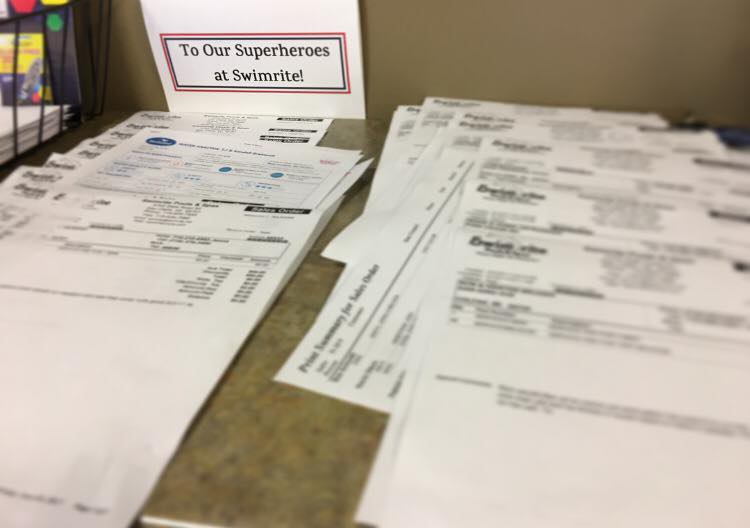 ecial bag full of good.
Right now Brandon doesn't fully understand where the bag comes from, but he knows that the food helps him and his family. our contributions help to provide nutritious food to those who face hunger locally.
You may not wear a cape or have magical powers, but you are a Superhero for families like Brandon's. Thank you to the whole Swimrite Team for going above and beyond to make Ribfest 2017 such a success. We are inspired by your efforts, compassion and desire to make a difference in our community. Wow! Thank you for the thousands of children and families you'll help this summer!"
~Suzanne & Emily
---
March 9, 2017
Thanks to Ty at Swimrite for helping me with the Big Green Egg purchase! He was very helpful and knowledgeable with the accessories, and helped me to better understand how to use the different items. The first few cooks were awesome! Looking forward to learning more complicated methods with this too!
~Tyler Sperry
---
June 1, 2017
We bought a new to us swimming pool last year and this was our first year setting it up by ourselves. Needless to say we messed setting up the sand filter and pump; we called Swimrite and they came out the same day!! They were so nice and explained everything they did and why. Super impressed by the five star service they give the customers! Now we can complete the setup and the family can enjoy! Thanks so much for you help!
~Bill & Shawn
---
September 2016
Swimrite has always been incredibly helpful with our pool and spa questions. We had a small issue with a big green egg we purchased from them and Ty was quick to get it covered for us under warranty.
We also purchased a Covana automated so cover/gazebo from Swimrite. Their sales staff and installation crews were incredibly helpful and not to mention dedicated working in the rain to install it for us!
We are most definitely customers for life!
~Ryan Harrington
---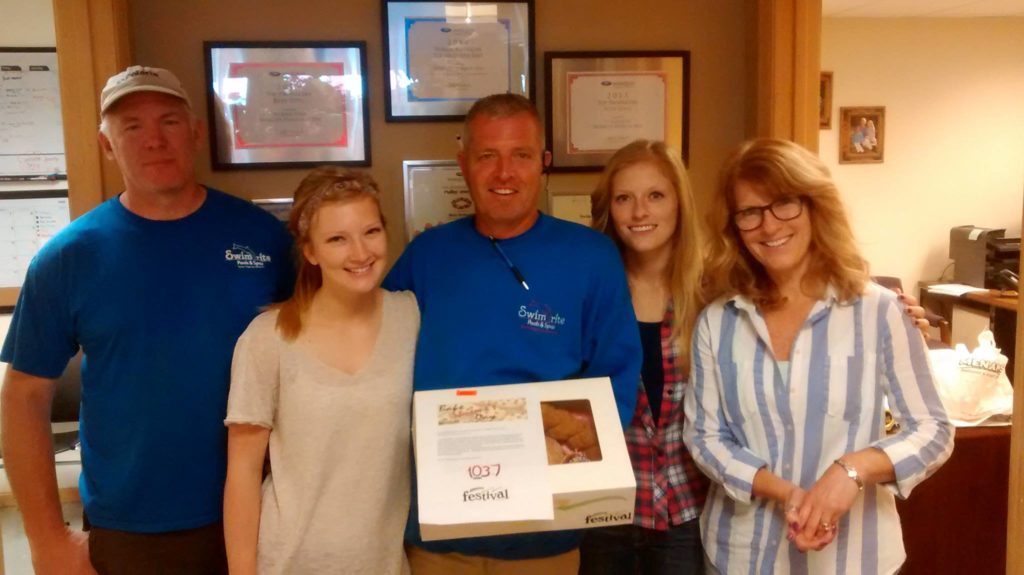 June, 2016
Congratulations, someone wanted to "Bake Your Day!" What they said about you:
"I would like to nominate the whole team at Swimrite in Eau Claire for all their charity and community work, particularly their annual Rib Fest to benefit Feed My People. I don't know if folks realize how MANY hours go into coordinating an event of that size…and to do it for a good cause, not just personal gain, is truly incredible!
All the staff at Swimrite are truly exceptional, and their constant efforts to do good in our community-whether they are recognized for it or not- is well worth saluting!"
---
We recently bought a used hot tub from SwimRite in Eau Claire, Wisconsin. The delivery and set-up was on time, the promised package of cover, cover assist, and chemicals was neatly packaged and the cover assist was completed on site, all in short order.With every new item, most of us would have questions and we were no different. I called on Saturday on three different occasions and was able to text pictures of the unit that related to our questions. I got prompt, courteous callbacks with answers and solutions to each question. WOW! Good old fashioned post sale service often absent in today's market place. Way to go SwimRite–Keep up the good work.
John and family. :) :) :)
---
WWIB Staff
Dear WWIB,
I apologize for the tardiness of my thank you letter. I returned home in June from my deployment, and our family is just starting to catch our breath and get settled into a more normal life. I'm so thankful to the Lord for His faithfulness and for sustaining us during my time away.
Thank you for drawing attention to the sacrifices of military families with the 'We Got Your Back" campaign. We are overwhelmed by the generosity of the sponsors and thank them for thinking of us.
Many acknowledge the sacrifices made by service members, but most people are not as aware of the sacrifices made by their families. I want your listeners to know that I could not serve our country without the support of my amazing wife and our children. They have had to endure their own challenges while I was deployed. I really appreciate your recognition of them.
Please continue to keep my fellow service members and their families in your prayers.
With deepest gratitude,
Major Tim Mason and family
TIM AND AMY MASON
---
June 9, 2004
Bob Schoettl
Thank you for supporting the 15th Annual DARE Golf Tournament. We had a great sunny day, a wealth of prizes donated by a variety of individuals and local businesses, terrific volunteers, and extraordinary golfers. Together we raised $15,000! This money goes to support the students who will go through the Drug Abuse Resistance Education Program (DARE) this year. These monies are used to help pay for the supplies and materials used during the program which is delivered to fifth grade students in school throughout Eau Claire County.
The DARE Program continues to be successful because of your involvement and the community-wide support we receive. We rely on the generosity of all those involved in making this event successful. Your contribution was sincerely appreciated.
Your feedback on this event is welcomed and appreciated. Your comments and suggestions are useful as we plan future tournaments.
Thanks again for DARING TO CARE…
Ron Cramer
Eau Claire County Sheriff
---
June 7, 2004
Bob Schoettl
Bob,
On Behalf of the Chippewa Valley Safe Kids Coalition, I would like to thank you again for helping us with our event on May 8, 2004. You very generously brought a pool to our event, set it up, and even had a person present all day to make sure there were no problems.
The pool allowed us to focus our event on water safety, with a theme of "SPLASH INTO SAFETY". With the help of some good weather, we were able to show people the different types of personal flotation devices. We had the Township dive team assist in demonstrating how one of their divers conducts a water search and rescue. None of this would have been possible without your help.
Let me thank you again for all your help and assistance.
On behalf of Chippewa Valley Safe Kids,

Chris Kirchman
---
February 11, 2004
John Klevin
Dear John and Bob,
The Fifth Annual Indianhead Area Special Olympics Polar Plunge was our best ever. Approximately 850 took the plunge and after all the money is received, we think we will be over $90,000. It truly was a great day thanks to the efforts of Swimrite and your wonderful crew. Please know how much we deeply appreciate your supporting us these past five years. We could not have a plunge without your help.
I am out of sweatshirts but have ordered new ones. When I get them which should be sometime next week, I will drop off one and you can all fight over who gets it. I do have some 2XL's and if you have anyone who can wear that, I would be happy to bring more of those if you just let me know.
I have enclosed an in-kind form. Please fill it out, keep the pink copy for your records, and return the other two copies to me in the envelope provided. In-kind donations count toward the value of our plunge, and I am anxious to make sure that everyone turns one in.
An athlete from the Madison area likes to tell people why he is involved in Special Olympics. He says, "When I'm in school no one wants me on their team. I'm always picked last and people are mad when I'm on their team. But in Special Olympics, everyone is always happy to see me." Thanks to your thoughtfulness and help with this year's polar plunge, other athletes will be able to experience that same happiness.
See you next year? I certainly hope so!
Sincerely,
Andrea Sullivan
Director of Development and Volunteers
---
July 19, 2002
Mr. Bob Schoettl
Dear Mr. Schoettl:
On behalf of our Board of Directors and Staff, we would like to thank you and SwimRite Pools and Spas for your support of the Make-A-Wish Foundation(r) of Wisconsin. Your donation of $2,000,000 as a participant in the National Marquis Spa Program enables us to grant Efrain's wish. Please accept the enclosed star as our personal thanks. It is our hope that it will serve as a lasting memento recognizing you as a partner in his wish.
Efrain is 12 years old and lives with his mother and four siblings. Efrain's one special wish was for an entertainment center with a 36″ TV, surround sound stereo, a DVD and lots of movies. Efrain's wish came true last month. Some of the DVD's he selected were Dr. Dolittle 2, Shrek, The Muppet Movie, Wizard of Oz and Toy Story. Efrain loves hearing loud music and watching the colorful characters in each movie.
The true impact of a wish cannot be measured in dollars and cents. A wish is a special type of medicine that is made of hope, strength and joy. The Make-A-Wish Foundation relies on the generosity of donors like you to provide the funding and in-kind resources necessary to create an amazing wish experience for each and every child. With your help, our Foundation will continue to reach more of the special children we serve by granting their favorite wishes.
With all good wishes,
Janice M. Smith
Program Services Manager
---
Dear Bob and the entire Swimrite Team,
You guys are awesome!!
Thank you for all you've done and continue to do. Do you know how much your generosity & involvement means not just to us – but to all who will be helped? A Ton!
Your donation has blown us all away!
You are incredible instruments for God. May He bless you beyond your wildest dreams because that's how you have blessed us.
Blessings and Thanks,
Toni, Bill & all of Trinity Equestrian center