Sauna: A Designated Stress Free Zone
Finnleo is the market leader and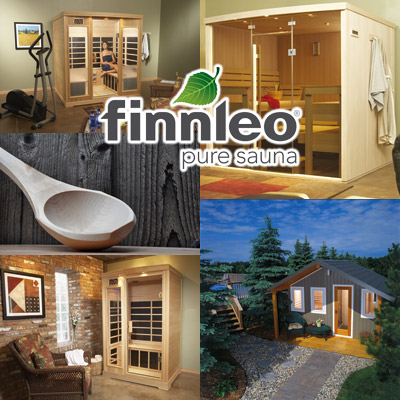 has the most complete line of traditional and infrared saunas. From entry level portable saunas to deluxe custom saunas Finnleo has a sauna for every taste and budget. Our customers are able to customize their own features such as custom lighting, custom benching and multiple wood choices and styles.
Our parent company produces more sauna heaters worldwide than any other company. Saunatec Ltd has the largest and most advanced sauna heater and sauna room manufacturing plants in the world. In addition, we have the most extensive research and development program of any sauna manufacturer.
Saunatec's North American manufacturing plant is located in Cokato, Minnesota, near Minneapolis and St. Paul. All Designer, Sisu, Outdoor, Patio and Custom cut sauna rooms are proudly manufactured in the USA.
When you choose Finnleo, you are ensuring the highest level of quality. We work on the principle that quality is important to even the smallest detail. This is your assurance that only the best materials, design and production processes are used in creating your pure sauna experience.
Stop by Swimrite today to check out the newest styles of the Finnleo Saunasor customize your own! The deals are going to be HOT HOT HOT!