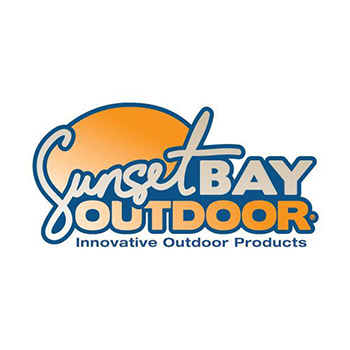 SunsetBay Outdoor® products are an extension of indoor kitchen activities. SunsetBay offers a full product line from standard or stock outdoor kitchens, multi family electric outdoor kitchens, fire pits, Big Green Egg, Holland, and Fire Magic barbecue carts. All SunsetBay products are constructed from heavy gauge extruded aluminum which is not affected by any of the outside elements and can be installed just about anywhere.
SunsetBay painted surfaces are available in three standard colors; deco beige, brown speckle and brick. They come with a Decaphlon™ architectural powder coat designed to meet the performance and durability requirements of top architectural specifications. All painted finishes come with a ten year warranty. They have passed rigorous testing for hardness, adhesion, thickness, resistance to impact, abrasion, corrosion and chemicals surpassing the prestigious South Florida weathering exposure testing standards (UV testing and 4,000 salt/sand spray test).
SunsetBay Outdoor® is the industry leader in aluminum outdoor cabinetry. SunsetBay modular cabinetry lets you be your own designer and takes only a few hours for installation, not days or weeks!
"We use only the highest grades of materials in our products and all products and materials are manufactured in the USA." -SunsetBay